EMS Software™ is a room scheduling platform with an online reservation request portal.  EMS Campus was developed for universities and is the industry leader in workspace and resource management in higher education.
EMS is a flexible software that manages any space or inventory, from conference rooms to parking garages, study spaces, and dorm beds.
Included Features
Event and course scheduling

Online reservation portal

Space logistics

Comprehensive scheduling, administrative, and reporting tools

Room approval and service-provider workflows

Billing and invoicing

Automated email communications and dashboard notifications

Customize and automate access and permissions

Integrate with room sign displays

Silo departmental space and data

Single sign-on (SSO)
EMS users on campus include Cockrell School of Engineering, College of Natural Sciences, Commons Conference Center, Marine Science Institute, McCombs School of Business, Parking and Transportation Services, University Housing and Dining, and Thompson Conference Center.
Simple and Customized Access
CES will support your department through each step of the process, from initial inquiry to deployment. After training, the vendor's support and knowledge base is available to all users.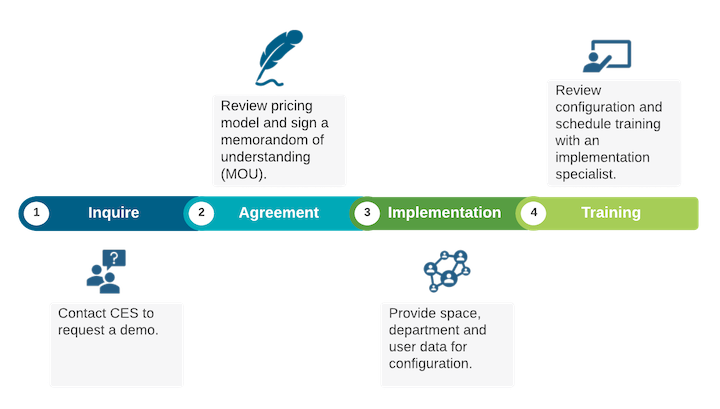 FAQs
What is the benefit of a space and resource management software?

EMS, the current software we support, provides our customers with a versatile tool to manage both event and academic schedules to prevent booking conflicts as well as enable your department to:

Capture, track, and measure event operations, academic scheduling, and space utilization. 
Achieve real-time space visibility on a departmental and campus-wide level. 
Increase efficiency in space management by providing myriad reporting tools, workflow notifications, and resource allocation. 
Improve the overall user experience during the reservation and booking processes.
What is included in the EMS Campus License?

A desktop application for admin users, web portal for requests, digital signage, and wayfinding modules with the option to add an Outlook plug-in. Unlimited users, a dedicated team for in-house training, support, and server maintenance.
Can I manage my course schedule in the same software?

Yes! Venue and space management and course scheduling can happen within the same software and provide a more efficient way to tackle the daunting task of reserving space for all those classes and reduce the time it takes to add them for visibility.
How is the Server maintained?

The EMS dedicated Server is maintained by The University's Technology Resources Group, is backed up nightly, and may serve as the official state record for items such as approval forms, contracts, and invoices.
Will other CSUs be able to see my data?

Each CSU is only given access to view and edit their own space and data, however, certain lists are shared, including the client database.